Once you have built an outdoor deck project, what else do you need to do? You can add the right furniture to your deck, which can give you better outdoor living space. But over time, the cushions of outdoor deck furniture can accumulate dirt, dust, and bird droppings due to exposure to the air. Therefore, regular cleaning of deck furniture cushions is vital to maintain their appearance.
However, cleaning outdoor deck furniture cushions can be a daunting task. Sometimes you have to fight what happens in a matter of minutes, and sometimes you have to fight spots that have been there for years. And cushions that have oil and water stains present cannot be cleaned directly in the washing machine. Therefore, it is important to know how to clean patio furniture in the right way. In this article, we will guide you step by step through the process of cleaning outdoor deck furniture cushions.
How to clean outdoor cushions
Patio outdoor cushions come in a variety of styles, with different cushions available in different fabrics and stitching styles. They may age, fade, or act in different ways depending on the temperature. However, if you know a few simple ways to clean outdoor cushions and when to use them. You'll be able to keep them clean and looking great for as long as possible.
Hand Washing
Outdoor furniture cushions are usually made of soft fabrics or treated with chemicals to protect them from UV rays. Therefore, the best way to clean most outdoor pillows is to hand wash them. Most outdoor fabrics can be cleaned with a stiff bristle brush; it's always better to consult your supplier for insurance.
Tools needed for hand washing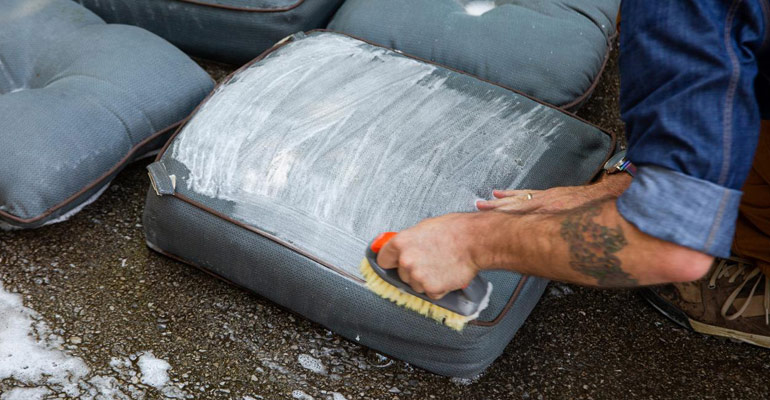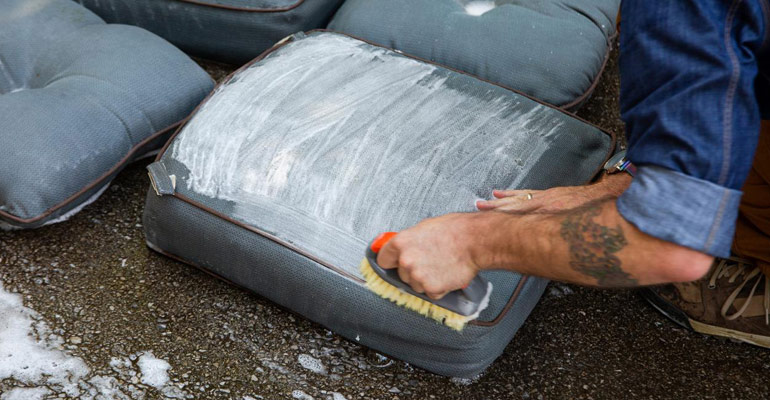 Hose
Nozzle for a hose sprayer
Brush
Bucket of water
Soap/cleaner
Start by spraying the pillows with the hose to get them wet. Do not put them on the grass or any other place where they might get dirty.
Prepare the cleaning solution. Prepare a bucket by mixing one gallon of water with 2 tablespoons of soap or other cleaning agents in the bucket.
Using a brush, apply the cleaning solution to the cushions, paying special attention to the dirty areas, and rinse each cushion one by one.
Allow the cushions to dry in the sun.
Machine Washing
Washing cushions on your outdoor furniture in a washing machine will reduce your workload. Pay close attention to the care instructions on the deck cushion labels to make sure you can wash and dry them.
Tools needed for machine washing
Washing machine
Liquid detergent
Dryer or clothesline
If you can, use a cleaning product on the stain before washing.
Most of the time, you should use the "gentle" cycle on your washing machine.
Air dry or use a dryer to dry the cushion until it is just a little damp. By keeping the textile a little damp, it will return to its original shape without shrinking.
Pressure Washing
How do I clean deep stains from my outdoor furniture fabric cushions? If the fabric can handle the pressure, pressure washing can be one of the best ways to clean deck cushions. But you have to be careful when using a power washer. Using a power washer can damage seams or tear off buttons. So before you pressure wash your furniture cushions, check the care instructions on the label or the manufacturer's website to make sure that pressure washing won't cause them more damage.
Tools needed for power washing
A pressure washer
Attachment for the soap sprayer
Bristle brush for fabrics
Pressure washer cleaning agent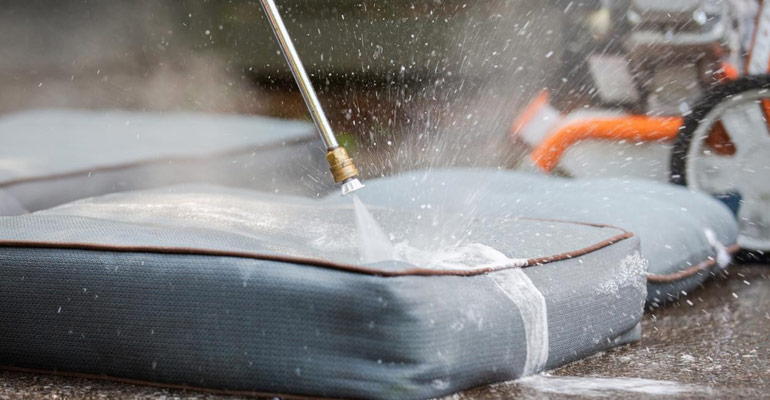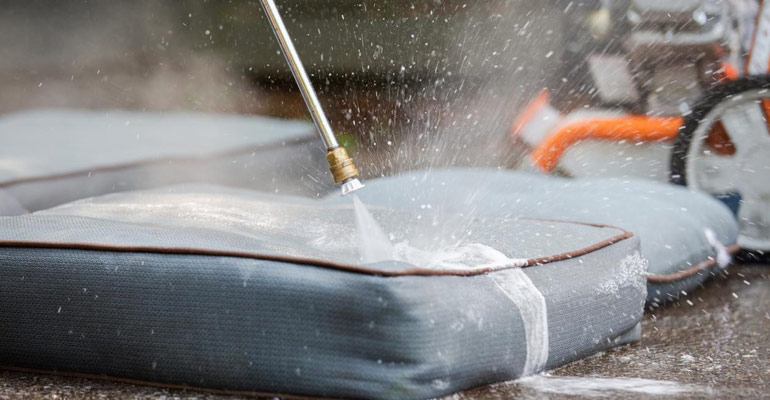 Mix the solution for your pressure washer, tighten it, and open the nozzle.
Select the lowest PSI setting and spray as far away from the target as possible.
If possible, do not spray directly into the seams of the cushion.
Once the cushion is washed, turn it over so it can dry faster. If you need to, flip the sides over to help them dry evenly.
How to clean specific stains on outdoor cushions
We have to say that not all stains are created equal. Molds tend to be more of a problem in some areas than others, but they can grow anywhere if not treated properly. Getting rid of bird droppings can also be difficult. But if you use the right solutions, you can reduce the time and work involved in cleaning some areas.
Bird Droppings
When cleaning bird droppings from outdoor patio seating, it's important to try not to let the stain spread. When cleaning cushions, you can make them easier to clean by removing as much of the base as possible before cleaning and scrubbing in small circles rather than long strokes.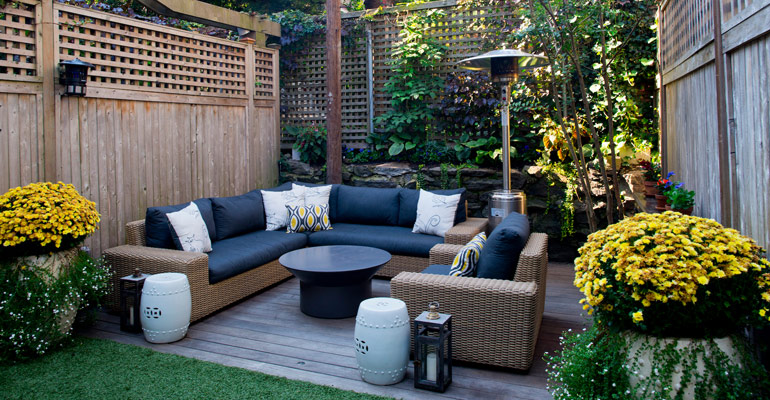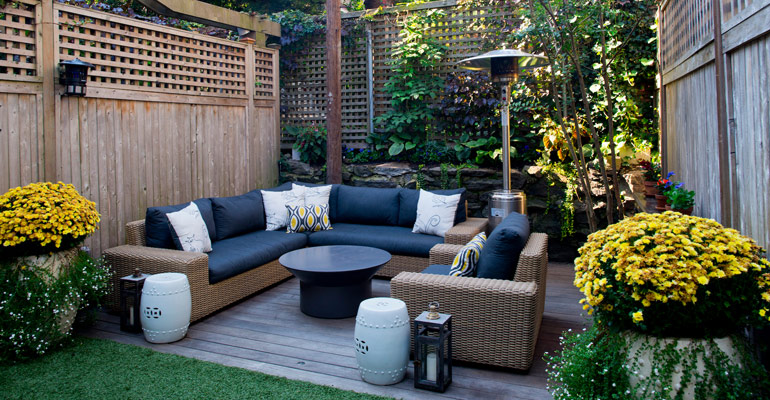 If possible, spray the area with a mixture of liquid detergent and warm or hot water. The color should be sprayed where it can be seen. Scrub the cloth in a gentle manner with a soft bristle brush or towel. Most of the time, you won't need a special detergent, but if you do, a pet cleaner will usually do the job.
Mold and mildew
Mold generally grows in damp, dark, and warm places. Not only is mold dirty and unsightly, but it also makes cushions smell funny and makes them look bad. Most of the time, if you can manage it, bleach is the best way to clean moldy patio seats. It depends on what the mold is growing on, though.
You can clean mold by mixing a half cup of bleach or cleaner with a gallon of water and spraying the solution on the mold. Clean the cushion with a brush, then let it dry. For darker mold spots, you may need to spray and scrub more than once. Most of the time, it's better to scrub gently four times than to scrub hard twice. Follow the same steps to clean acrylic seats, but add two extra cups of detergent to the cleaning solution.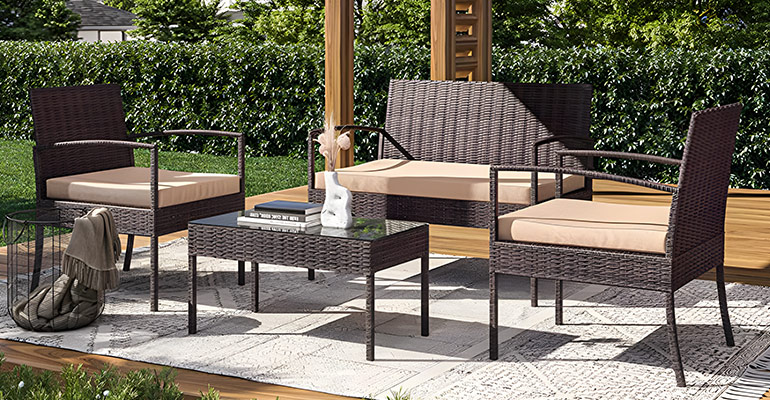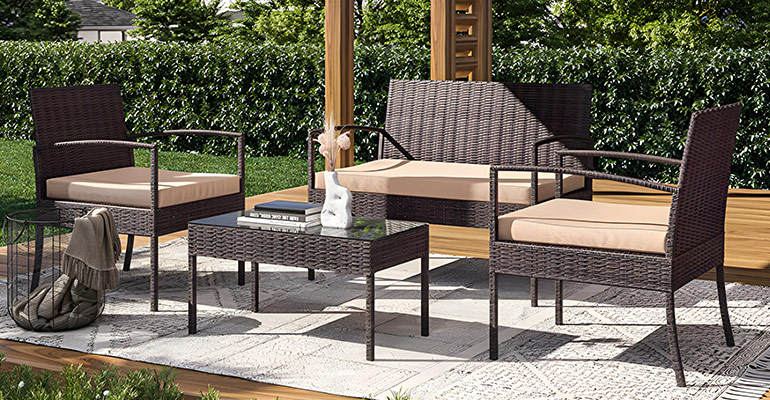 Food and oil stains
When you eat out, food stains are almost certain to happen. But even these spots can be removed if you use the right method.
If the grease stain is new, you can wipe it off with a clean cloth. If it's not, get the color off immediately. When the grease mark dries, it becomes more difficult to remove. In both cases, try putting baking soda on a cloth and letting it sit for a day. Brush off the baking soda with a brush, then spray the pad with a mixture of vinegar and water. Then wash it again after scrubbing.
Chalk and detergent may also work, depending on the condition of the cloth. Keep in mind, however, that oils tend to stick to synthetic fibers rather than repel them, which can make spots difficult to remove. To prevent marks from spreading, you'll need to move in small, controlled steps, much like you would with bird droppings.
Ways to keep your outdoor furniture cushions looking great
Taking care of your deck furniture and cushions on a daily basis can save you a lot of trouble. It will also be easier to clean up in the long run. Taking a few simple steps to care for your outdoor seating can save you a lot of hassle. Here are some things to consider.
When the environment is humid, there is a greater chance of mold and mildew. But when it's dry, there's a greater chance of dust appearing. You need to react differently depending on the situation.
Protective sprays can help stop water damage and make it easier to clean up stains in the future.
Regular use of a leaf blower can stop the buildup of hard-to-remove debris while blowing moisture out of the wood fibers.
Covering furniture with a dust cloth when it's not in use can help it last longer. Turning cushions frequently can help them age and wear evenly in the sun.
Clean up spills immediately so you can stop the growth of bugs, mold, and other stains.